Leading Sustainable Change

Members of our team have had responsibility for planning and implementing change programmes at senior level in organisations. We understand the challenges involved and will work with you to overcome them.

The six key activities covered on the Growth & Change Cycle are fundamental to any organisation. However the environment in the centre of this cycle needs constant review and change. This work focuses on Communications, Processes, Culture and Values.

Our recent experience, underpinned by research, highlights the need to increase the focus on individual reactions to change. Many negative feelings can be deflected if consideration is given to the initiation of change and how it might impact on individuals. These considerations must include the way that decisions are communicated, the level of engagement and support during pre/post-implementation and the extent of participation in the change process.

Leadership plus engagement is the key - not just from the top, although clearly this is fundamental. Today's organisations require leadership and engagement at every level that recognises the need for change, anticipates the reactions of individuals, and demonstrates sensitivity toward them.

Our work covers two areas:
Facilitating "strategic change" discussions and programmes with top management/senior leaders - helping them to translate their strategic intent into operational plans.
Working with managers at all levels, to develop leadership skills and behaviours that will ensure the successful implementation of strategic and operational plans.
OUTPUTS


Your leaders at every level will know how to develop strategies and operating plans for change that create the circumstances for success.




Your Organisation and its leaders will understand and be sensitive to people's reactions to change whilst, at the same time, taking actions that are necessary for long-term success.


You will significantly increase the effectiveness of change programmes, in terms of timeliness and cost.


"Change" will be managed as an integral part of normal business practise.

To find out more, please telephone us on 01865 339558 or email us at: info@wadenhoeconsultancy.com
leading sustainable change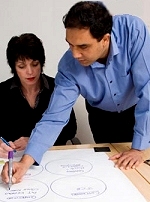 Why Wadenhoe Consultancy?


After working with the RIM Board and senior management for a year, it was clear from a strategic review that transformation was taking place.

In the light of the emerging strategy we were able to redefine the roles of managers throughout the organisation and the skills and capabilities that managers and leaders needed to deliver success.

The resulting development programme for all management levels, ran over the next three years with measurable benefits to the Group and its shareholders.

Regional Independent Media
(The Yorkshire Post)