Providing Development Solutions

Members of our team understand leadership development and how to maximise its impact. In addition, most of them have had senior-level budget responsibility for training/development in large organisations.

All of our Development processes are tailored and designed in close partnership with the client organisation and individual participants. The starting point is to ask the question: "What is the PERFORMANCE we are trying to have an impact on?"

Sometimes the answer to this question is linked to a particular aspect of BUSINESS PERFORMANCE or the VALUES that underpin it.

Sometimes it's a PERSONAL PERFORMANCE agenda linked to personal style; changing circumstances; a new role or preparation for a future career move.

For most Development activities it's a pragmatic combination of both, and we have a great deal of experience in combining the two successfully, so that impact can be measured at four levels: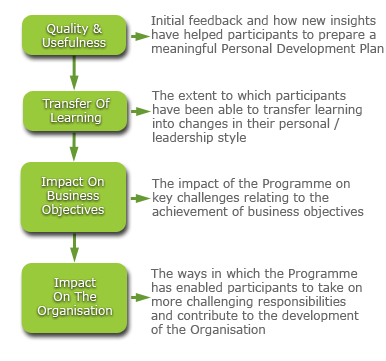 Focus On Impact

Most Development processes focus on some kind of Action Plan as an output. For us, this is not an output in itself! The real test of success is when positive change occurs that has a real and lasting impact on the Business. To achieve this, we ensure that before any process starts, all stakeholders are signed up to a clearly defined business goal/objective that is to be achieved.

Other Key Programme Characteristics

All Growth and Change programmes:
Focus on practical skills and behaviours, supported by sound principles, rather than the other way round.
Include substantive and challenging content, which develops a recognisable and prestigious "standard" for the client organisation.
Give individuals the knowledge and responsibility to lead their own development.
Action orientated, balancing immediate applicability and longer-term benefit.
Focus implementation (doing), as well as planning (thinking).
Create opportunities for networking and collaboration.
Alongside our resources and experience in delivering programmes, we are also fully committed to ongoing support through:
On-line support/conversations/distance learning materials
Review meetings
Facilitated Learning Sets
Tailored learning/development activities to meet specific needs
Help with special assignments/projects.
OUTPUTS
Participants are able to:


Transfer learning into changes in their personal/leadership style


Address key challenges in their role


Take on more challenging responsibilities and contribute to the development of the organisation


Achieve a measurable return on investment.

To find out more, please telephone us on 01865 339558 or email us at: info@wadenhoeconsultancy.com
development solutions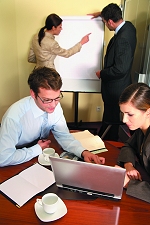 Why Wadenhoe Consultancy?


Exploratory meetings started between The Wadenhoe Consultancy and Hertfordshire Constabulary in 2000.

Following some very detailed work on Leadership Capabilities and Values, Leadership Programmes started in 2002.

By 2008, over 300 officers and managers had been on modular programmes. In addition, Wadenhoe had worked with all Chief Inspectors; Superintendents and equivalent senior support teams on departmental strategies and specific leadership challenges.

"The content is very appropriate for our level and provides key tools and insights to concepts that can be practically applied in the workplace..."

"The facilitator knows her subject inside out and is very passionate about it. This is reflected in the quality of the content and her willingness to explain and give a range of working examples"

Police Inspectors
Hertfordshire Constabulary