Assessing What You've Got

Members of our team have worked at senior levels in organisations, influencing the pipeline of internal talent for succession and resourcing new roles.

Many organisations spend more time and money on external recruitment and short-term "fixes" than they do on finding and developing talent from within? It can be very tempting to believe that the grass is always greener on the other side rather than face the sometimes daunting prospect of investing in development plans. We reverse this trend, while at the same time facing up to those "gaps" that can only be filled from outside.

We understand how to find and develop "stars". Not just high flyers for the "top", but people who can perform with star quality at every level, in a way that is consistent with organisational values. Our approach has three strands:

Individual Assessment - Used to identify development "gaps" that need to be filled in the current role or before moving into a new or changing role. It can also identify potential for future career development.

Team Assessment "Centre" - Provides an alternative option for highlighting development needs in relation to current role and potential for future career development.

Whichever approach is used the core elements are the same:
Tailored online 360 questionnaire and psychometric profile
Case studies, role plays and business simulations
Behavioural Event Interviews
Line Manager Assessment - Line managers are the "eyes and ears" of an organisation. They are also the embodiment and voice-box of the organisation to the employees, reflecting values in the way they lead people. When they are engaging their team effectively, the identification of potential becomes a natural and open process. We provide a unique Team Engagement Toolkit for line managers.



OUTPUTS

Clear understanding of:


Current Stars
- People who are already shining but with development could be even brighter in the future.


New Stars
- People who have not yet had the opportunity to shine, but have the potential to do so in the future.


Hidden Stars
- People who are doing an excellent job where they are, and as a consequence, are not considered for future development.


Distant Stars
- People who, because of geographical, divisional or functional boundaries, are not seen.


Fading Stars

- People who have not delivered the results expected of them but who are still believed to have unrealised potential.

To find out more, please telephone us on 01865 339558 or email us at: info@wadenhoeconsultancy.com
assessing what you've got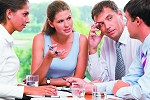 Why Wadenhoe Consultancy?


"I first came across The Wadenhoe Model nearly twelve years ago.

Since then, it has been the quiet, unflashy but utterly dependable 'touchstone' for all of the developmental initiatives, no matter how large or small, that I have led or been involved in - be they coaching interventions for individual business leaders at one extreme or complex, lengthy, award-winning programmes for large numbers of managers from around the world at the other.

It is a really practical and down-to-earth sense-checker."

Michael Alsop
Head of Executive Development
Group 4 Securicor