Discovering The Power Of Engagement



"Leaders can't make people engage, but they can create an environment with their conversations and actions, where people choose or don't choose to engage".



Why Is This So Important Right Now?


In today's constantly evolving organisations, the pace of change is faster than ever and the focus on performance is greater than ever. Strategies however well defined, need to be underpinned by shorter-term tactical and operational decisions made by people who are energised and engaged with their organisation and its customers.

This can't possibly happen in situations where they are constrained by bureaucracy; constantly changing expectations: unnecessarily complicated reporting lines; unclear boundaries; fear of making a mistake; lack of competence or just plain poor motivation. In these circumstances the message for line managers is clear:



"You, the leader, are the single biggest influence on
how energised and engaged your team is"




Take Three Conversations!


In conversations with organisations that have gone through major change programmes, the outcomes are often described by senior executives as having been successfully executed! They say that there has been some resistance at lower levels and managers have left who were "unable to hack it". But the organisations have become "fitter and stronger as a result of reorganisation".

Yet, these quotes from two so-called "survivors of change" tell a different story:

"A very significant change in my job......and another review with more change to come. I've been trying to put it into practice, but I still find it very difficult.....we're pawns in the game plan.....foot soldiers in the army......It's horrible, but you have to stick it out and see what happens. I'm not optimistic.....there's not a lot you can do."

"My anger has subsided. It's been replaced by discontent and anxiety. I've adjusted my life style - less hours, and no Sunday work. My family is now decidedly first, the Company second (it was the other way around). The Company has lost my total confidence, devotion, loyalty and trust.....I'm now wary".

These are the people who are fundamental to delivering the future hopes, dreams and aspirations of the organisation!

Yet it appears that, despite trying hard to make the change, they are losing energy and, like an army on the losing side, feeling tired and demoralised. In our consultancy work, we experience this kind of dip in morale, usually when initial enthusiasm for a project is replaced by the reality of what is required to complete the "journey".



So What's New?


Our unique starting point is The Wadenhoe Model® and the part of this framework that is particularly powerful for creating an environment where everyone is fully engaged is the Performance - People - Place Triangle: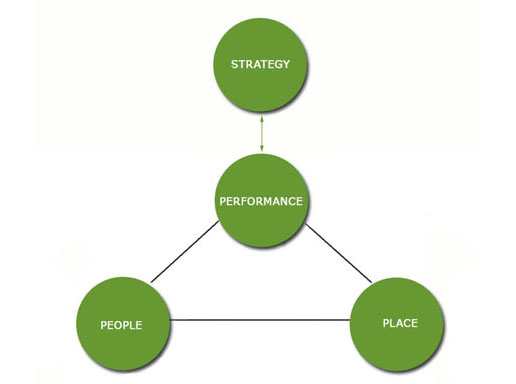 Strategy: Strategic changes are intended to have a far reaching effect on an organisation's performance. However, if the detail behind the words is not clear outside of the board room, then little will change.

Performance: To perform well individuals need to understand the change required of them and how this fits together to improve the overall performance of the organisation. Another bullet point added to key activities, is not evidence that the Performance required is fully understood.

People: This is about really knowing the people who will deliver the change, both as groups and individuals. It is also concerned with ensuring that they have the necessary skills, knowledge and attitude required to make it happen.

Place: Alongside the physical aspects of Place, this is primarily about addressing the question: "Do the values and behaviours in the organisation encourage Engagement?"

For each of the arrows shown in the Model above, Wadenhoe have developed a unique set of "connection checks" to ensure that all of this thinking is fully integrated into implementation plans.




Simplifying Engagement Conversations


One of our initial reasons for focusing on Engagement several years ago, was the number of requests from organisations for help with Performance Management. Yet we knew from our experience that most "performance" issues were rooted in factors like: Unclear expectations; absence of standards; lack of feedback; lack of motivation to perform; task interference and skill & Knowledge gaps.

So we felt it really important to clarify the difference between a Performance Management conversation and an Engagement conversation. Trawling through 100's of PDR frameworks it quickly became clear that complicated competencies and behaviours were often at the heart of the problem. Clustering and analysing this information has enabled us to create a selection of eight conversation "starters" around these four themes:



Key Engagement Themes




Commitment
Helping people to shape their own goals and believe that they can make a difference





Self Esteem
Being consciously clear about what we are looking for and acknowledging people for doing things right.





Confidence
Giving people the courage to walk towards challenges and make decisions.





Competence
Spending more time developing people and exploring ways for them to utilise their potential.





The quality of these conversations is the key to creating an environment where everyone is fully engaged - capitalising on their "Productive Energy".

And leaders at every organisational level can make it happen!



Who Will Benefit?

What Will They Gain?

Leaders and managers
HR and OD professionals
Project leaders
Change leaders

Enhanced leadership capabilities
Targeted organisation development
Tangible business benefits
Personal growth & development


To find out more about our in-company lunchtime or early evening briefings on Discovering the Power of Engagement, please contact Sue Bell at: sue@wadenhoeconsultancy.com